Oil Change Service in Marshall, MN
We service all makes and models! Schedule your vehicle maintenance today at Kruse Motors!
OEM Certified




Why Service Your Vehicle at Kruse Motors?
We strive to keep your vehicle running like-new for years to come! Let us be your one stop shop for all of your vehicle needs!
Complimentary Shuttle Service
Don't want to sit and wait at the dealership? Our complimentary shuttle will drop you off at home, work, wherever you need to go!
OEM Certified Technicians
Our service experts have gone through training on the latest in vehicle technology!
Service now, pay over time! Unexpected maintenance needs are inevitable with cars, but not to worry! Our flexible payment plans are a great option!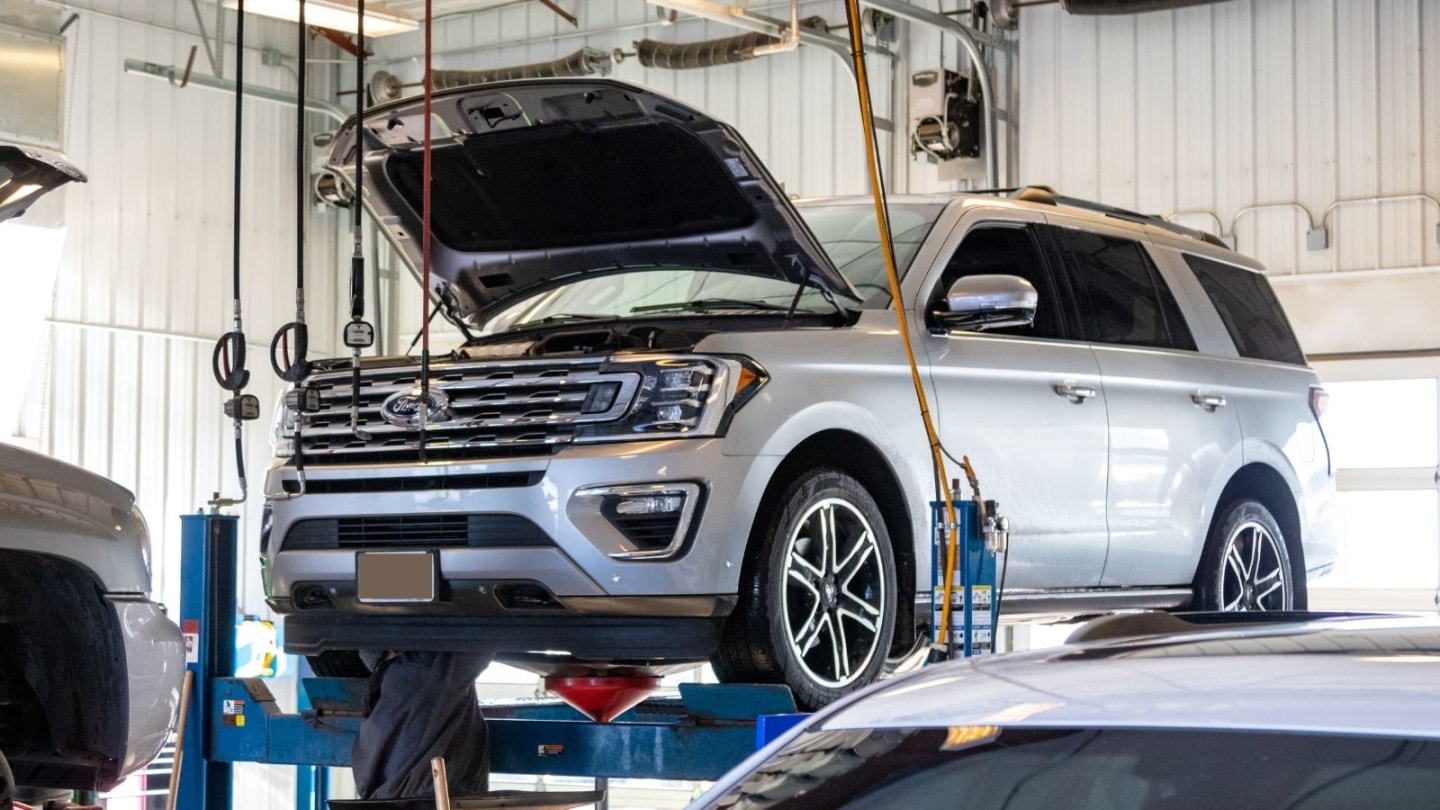 Service Now, Pay Over Time!
Kruse Motors has partnered with Sunbit to offer flexible payment options on vehicle service. See your options in just 30 seconds! Service your vehicle now, and pay over a term that works best for you. Our most commonly used payment plan is 0% interest for 3 months. Sunbit offers up to 12-month financing, with a 90% approval rate! Ask our service team about the flexible payment plans available to you!
Vehicle Service You Can Trust!
Kruse Motors brings in customers from Marshall, Tracy, Canby, Slayton, Worthington, Montevideo, Redwood Falls, even Brookings and Sioux Falls! There's a reason our customers choose Kruse - our transparency and dedication to excellence!
"Kruse Motors staff are attentive, trustworthy, and great to work with!"

– Maggie C.

"Outstanding service and very personable staff."

– Carol C.

"Couldn't be happier with the sales and service from Kruse Ford!"

– Jan T.
FAQs
Common questions about oil changes:
Why are oil changes important for your vehicle?
Oil is essential for the proper performance and longevity of your vehicle. It's important to maintain proper oil levels and ensure that your oil doesn't become old and contaminated with debris. Otherwise, your car or truck might suffer from poor performance, a shortened lifespan, overheating, or more serious problems. Oil is the very lifeblood of your vehicle. It lubricates the moving parts of your engine to make sure that everything can move smoothly. This is designed to reduce friction so that the metal parts last longer and less heat builds up during normal operation. When your oil is old or its level is too low, you risk damaging your vehicle. Not only can this lead to decreased engine life, but there is also a risk of sticking piston rings or overheating. When you have your oil changed regularly, you are looking out for the health of your vehicle's engine.
How often should you change your oil?
All car manufacturers provide recommendations about how often the oil should be changed for each particular model. Usually, this recommendation consists of a maximum number of miles or a maximum number of months you can drive your car before it's time for the oil to be changed. For example, many vehicles should have their oil changed after 3,000 to 5,000 miles or 90 days, whichever comes first. While most manufacturers' recommendations are conservative, it's best to err on the side of caution and have your oil changed as soon as your vehicle has exceeded the specified time or mileage. If you notice that your engine oil is low before the recommended mileage or period is up, you should take your vehicle in for an oil change. Don't simply top it up. Although it is always important to top up to reach the proper level, you will simply be adding new oil to old, dirty oil, which isn't ideal. Taking your vehicle in for a professional oil change service will let you get an expert opinion about your engine's oil health. Of course, if your oil warning light comes on while you are driving, this is an indication that your oil pressure is dangerously low and you should stop driving, allow your vehicle to cool, check the oil level, top it off, and have your vehicle inspected immediately.
What goes on under the hood during an oil change?
When you decide to ditch the DIY route and go to the shop for an oil change, the tech will check your oil level and condition in order to assess how well your vehicle has been maintained so that they can make recommendations accordingly. If your oil is abnormally low or dirty, it might indicate the need for a deeper inspection. Then, the old engine oil will be drained from your vehicle to make room for fresh new oil. Your old, gunky oil filter will be removed and replaced with a clean, lubricated, new one. Next, your engine will be refilled with new oil. Your tech will tell you which type of oil is being used so that you know what kind to top off with if you need to. A full-service oil change includes a range of other valuable services. This includes an inspection and top-off of your vehicle's fluids, including power steering fluid, automatic transmission fluid, windshield washer fluid, and antifreeze or engine coolant. Most full-service oil changes even include safety checks of your car's battery, lights, serpentine belt, hoses, cabin filter, tire pressure, and wiper blades. Some service packages include lubrication of high-wear areas on your vehicle, such as the chassis and hood and door hinges. A full-service oil change usually includes an inspection of your vehicle's air filter. A healthy air filter is critical to your engine's performance. If the air filter is clogged and dirty, a knowledgeable tech will be happy to change it for you. In addition to being an essential process for maintaining your car's engine health and proper performance, an oil change puts your vehicle in front of a qualified automotive expert. Countless potential vehicle problems have been identified by techs during the course of regular oil changes. Many of these issues would not have been noticed until their symptoms began to affect driving performance. By then, the cost of repairs may have gone up considerably.
How long will my oil change take?
An oil change can be performed quickly. It usually only takes between 30 and 90 minutes, so most drivers choose to have the service done while they wait. Generally, you can count on being in and out within an hour or two. If you have time constraints, be sure to call ahead to set up an appointment. Our complimentary shuttle service offers drop offs and pick ups if you decide not to wait at Kruse!