Buick Shines a Spotlight on Female Athletes to Help Increase Visibility
May 30, 2022 - 5 minute read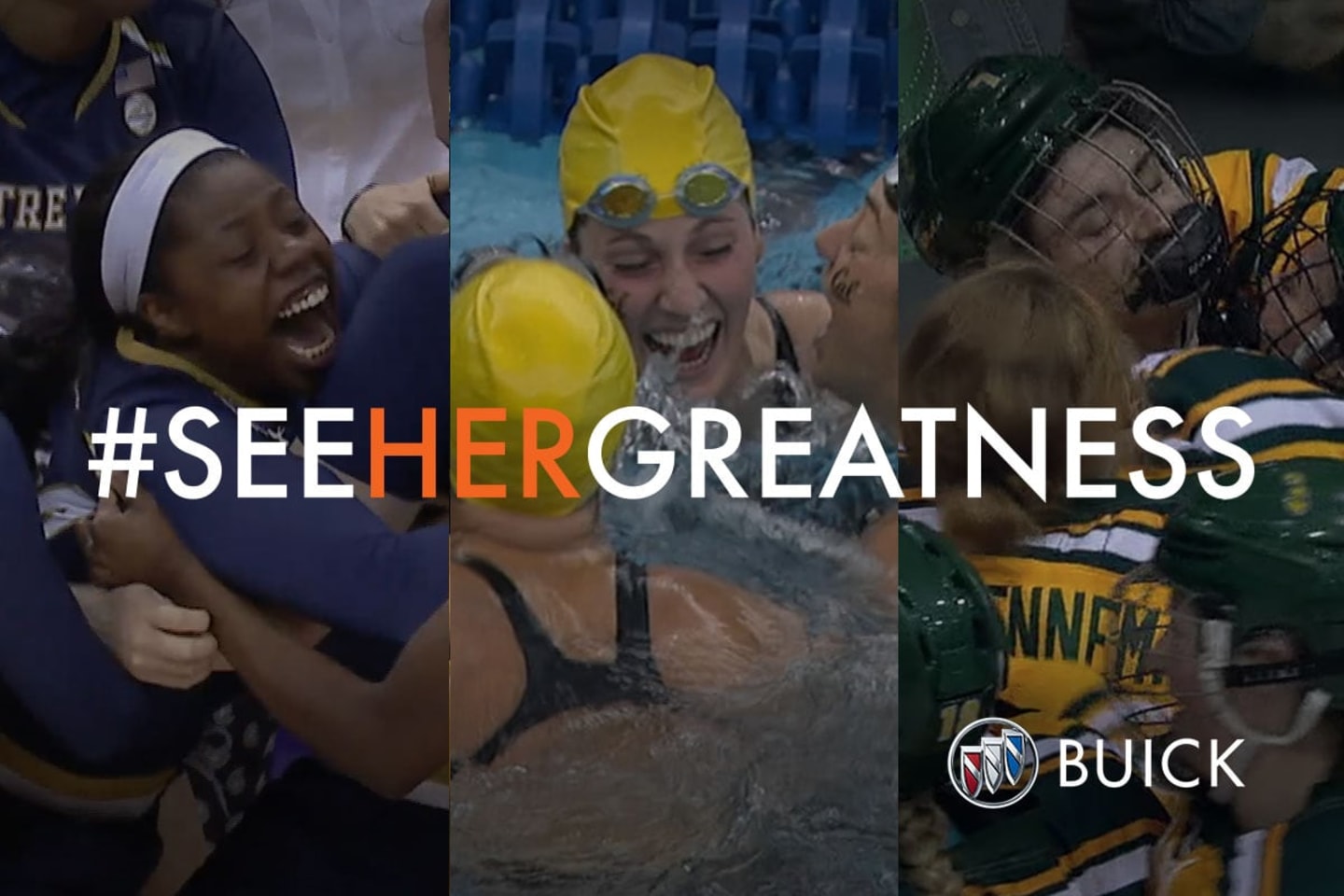 DETROIT — Over 40% of athletes are women but they get less than 10% of media coverage. Buick is committed to changing this reality through the launch of "See Her Greatness," a campaign designed to drive awareness and magnify the achievements of female athletes. The campaign kicks off in tandem with Women's History Month and the start of NCAA March Madness.
"See Her Greatness" will debut on March 12 and continue throughout the year on multiple platforms, including in-person events. The spots focus on incredible moments from historic plays in female college athletics. Instead of showing video footage, the campaign spots feature audio from sportscaster commentary as Buick emphasizes many people likely missed these highlights. As the spot wraps, it reinforces the minimal media coverage on-screen and provides a QR code that directs viewers to a landing page to watch the full highlights.
The first ads will feature moments from women's college basketball, hockey and swimming tournaments, including one of the greatest buzzer beaters in NCAA history.
This year marks the 50th anniversary of Title IX that mandated gender equality in education and athletics. As a longstanding NCAA partner, Buick will run an equal number of paid ads in the women's and men's March Madness tournaments.
"What is important to our customers is important to Buick as the brand with the largest percentage share of female buyers1, and we are committed to inclusivity and equality for women," said Molly Peck, Buick and GMC Marketing vice president. "These remarkable female athletes have demonstrated the dedication, teamwork and leadership skills that can be used on and off the playing field, and we believe her greatness should be seen."
To help bring women's sports to the forefront, Buick is working with TOGETHXR, a female-led media company designed to showcase women and girls as game changers. Renowned female athletes Sue Bird, Chloe Kim, Alex Morgan and Simone Manuel lead the company. TOGETHXR has created a compelling platform for women in sports and culture, exemplified through original content that includes Surf Girls: Kaikaina, More Than A Name, FENOM, Summer of Gold and more.
Through this collaboration, Buick and TOGETHXR will create inclusive content to help increase representation and host "mentor huddles" in which viewers can witness a discussion between female athletes during major NCAA tournaments. Influential women athletes will host the huddles and current female collegiate athletes will join them. Buick and TOGETHXR designed these events to provide an opportunity for the athletes to connect, inspire, network and empower. The "Buick Huddles with TOGETHXR" will take place at the Women's Final Four in Minneapolis (April 1 and April 3) and continue at prominent collegiate events throughout the year.
"TOGETHXR is on a mission to showcase and build business with and for the amazing diverse women changing the world through sports and activism," said Jessica Robertson, TOGETHXR chief content officer. "We're excited to work with Buick, which shares our mission to increase the visibility of women's sports."
As part of the collaboration with TOGETHXR, Buick will also have a physical presence at various NCAA events with onsite mentor huddles at the tournaments.
For this campaign, Buick will receive the first "#SeeHer in Sports Award" from SeeHer, the leading global movement to eliminate gender bias in media and advertising, during the Cynopsis Sports Media Awards in April.
To catch the NCAA games while on the go2, select owners3 of eligible Buick vehicles will be equipped with the Buick March Madness in-vehicle app, providing drivers access to live game coverage and highlights of the men's and women's tournaments. Buick is also offering complimentary Wi-Fi to owners with app-capable vehicles during the month of March3. The offer is available for current owners in the U.S. who have an app-capable vehicle equipped with a Wi-Fi hotspot and do not currently have an active data plan4.
The full historic college sports moments featured in the ads, as well as the mentor huddle videos, tournament schedules and additional content can be found at Buick.com/SeeHerGreatness.
Buick is an international modern luxury brand offering vehicles with sculpted designs, luxurious interiors and thoughtful personal technologies, along with responsive-yet-efficient performance. Buick is attracting new customers with its portfolio of award-winning luxury models in North America and China. Learn more about Buick cars and crossovers at www.buick.com, on Twitter @buick, on Instagram, or at www.facebook.com/buick
TOGETHXR is a media and commerce company founded by four of the world's top professional athletes, Alex Morgan, Chloe Kim, Simone Manuel and Sue Bird. Created specifically for Gen Z and young Millennial women, TOGETHXR is where culture, activism, lifestyle, sports and badassery converge. With a focus on rich storytelling rooted in lifestyle and youth culture, TOGETHXR is an unapologetic platform where representation and gender equality are both expected and required. TOGETHXR highlights a diverse and inclusive community of game-changers, culture shapers, thought-leaders and barrier breakers--finding and telling the stories of women who are doing the same.
# # #
1Based on 2021 CYE IHS Markit (now part of S&P Global) new personal U.S. light vehicle (GVW U, 1-3) registrations. 2Always pay careful attention to the road and do not drive distracted. Wi-Fi hotspot intended for passenger use only when vehicle is in operation. 3To be eligible owners must be based in the U.S., have an OnStar 4G LTE equipped vehicle and have agreed to the OnStar Terms and Conditions, but do not currently have an active data plan. 4Visit onstar.com for vehicle availability, details and system limitations. Services and connectivity may vary by model and conditions. 4G LTE coverage not available everywhere.